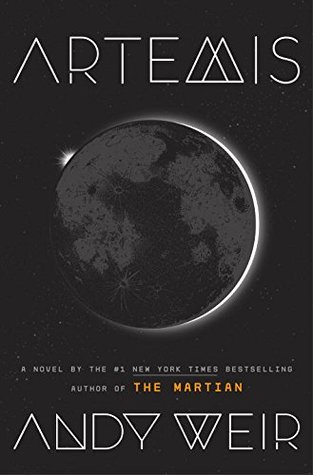 Artemis is one of the best books I've read in a long time. I borrowed the copy I read but you can bet that I am going to buy myself one. Yeah, it was that good. (5/5 stars.) At one point, I even dreamed that I lived in the city on the moon.
One thing that I really loved about the book was the writing style. This is the first I've read any of Andy Weir's work, so I didn't know anything about his style going in. In Artemis, the style is very realistic, it's practically stream of consciousness. It seemed as if the protagonist, Jazz, was having a conversation with the reader, or giving a confession. At times, the fourth wall was broken to actually address the reader. It worked very well for Jazz and her personality. I think that it was the best way to go about the setting, as well. Very few people have ever been to the moon. The way that Jazz interacts with the reader, and how realistically the story was written, make it much easier for the readers to understand how life in Artemis and life on the moon (yes, they're different, a city has politics and the moon has different gravity) work.
Something that was obvious from the get-go was how much research Andy Weir put into this book.
Or, he's really good at making things up.
There was a lot of chemistry and math, a lot of information about welding and physics and aerodynamics. It blew me away how tediously he researched everything. I learned a lot about gravity and space travel. The novel didn't seem too information heavy, either, which is usually hard to do given how much explaining is needed for the general population to understand not only the basics of how Artemis works as a city, but how Jazz functions in her day to day life and how she completes her mission that compels the rest of the story.
I also enjoyed how diverse the story was. Jazz is Saudia Arabian, all of Artemis is possible because of Kenya, the aluminum is made on the moon by a Brazillian company. Honestly, I think the only recurring white character is Rudy, and he's a rude Canadian (a character type that we don't usually see…I'm talking about Canadians, not rude Canadians). It was very refreshing to read a book where the protagonists aren't white Americans in a post-apocalyptic world or a John Green novel.
What? I'm not salty.
There was one thing that did confuse me while reading, though. Sporadically, throughout chapters, there were emails between Jazz and a character named Kelvin. This isn't much of a spoiler, but if you don't want to know anything AT ALL about the book, then skip this paragraph. These emails start off in the past to help establish Jazz and Kelvin's relationship, as well as help explain how Jazz ended up where she is at the start of the novel. While reading, I thought that the emails were in real-time, which confused me because the events that Jazz relayed to Kelvin didn't add up. If the emails had been time-stamped or said that they started 9 to 10 years previously, it would have cleared up the confusion that I had. I didn't realize that the emails were taking place in the past until they caught up with the present, over halfway through the book.
The reason that I wanted to read Artemis is because Artemis is my favorite Greek goddess, so there is really no connection between the two other than the name of the city. Though this wasn't a story about Greek heroes, I was not let down at all. This book gave me a rollercoaster of a ride and a rollercoaster of emotions. I recommend you pick up a copy.