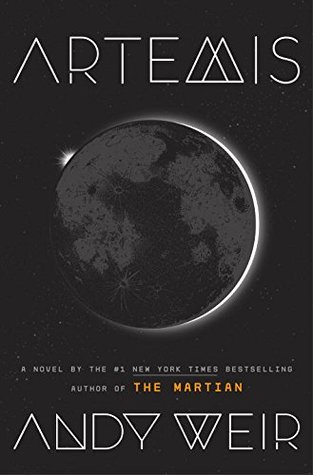 Artemis is a book that I've wanted to read since it came out. I originally wanted to read it because Artemis is my favorite Greek goddess…I actually had no idea what the book was about. If you also don't know what this book is about, I'll leave the synopsis below. This is the first I will be reading anything by Andy Weir, so I'm excited to see how I like it.
Jazz Bashara is a criminal.
Well, sort of. Life on Artemis, the first and only city on the moon, is tough if you're not a rich tourist or an eccentric billionaire. So smuggling in the occasional harmless bit of contraband barely counts, right? Not when you've got debts to pay and your job as a porter barely covers the rent.
Everything changes when Jazz sees the chance to commit the perfect crime, with a reward too lucrative to turn down. But pulling off the impossible is just the start of her problems, as she learns that she's stepped square into a conspiracy for control of Artemis itself—and that now, her only chance at survival lies in a gambit even riskier than the first.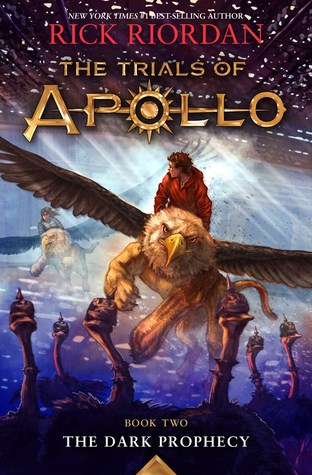 The Dark Prophecy is a book that I've been dying to read since I finished the first of the series. I am waiting to buy the book when it comes out in paperback so it matches the first one (which I bought in paperback), so I checked it out the hardcover from the library. I have always loved Rick Riordan's writing since I started the Percy Jackson series when I was twelve. I'm excited to see where the story goes an how everything ties together because it's obvious how much thought that Riordan has put into his series. Read the synopsis below.
The second book in the latest series from Percy Jackson creator Rick Riordan. The god Apollo, stuck in the body of a teenage boy, must undergo the second of his trials to regain his immortality.
I got The Edge of Falling from the library because they didn't have the book by Rebecca Serle that I wanted (it's down further on the list). I read the inside flap of the hardcover and the plot seems interesting, so I checked it out. I have previously read Serle's Famous in Love so I know that I like her style.
Growing up in privileged, Manhattan social circles, Caggie's life should be perfect, and it almost was until the day that her younger sister drowned when Caggie was supposed to be watching her. Stricken by grief, Caggie pulls away from her friends and family, only to have everyone misinterpret a crucial moment when she supposedly saves a fellow classmate from suicide. Now she's famous for something she didn't do and everyone lauds her as a hero. But inside she still blames herself for the death of her sister and continues to pull away from everything in her life, best friend and perfect boyfriend included. Then Caggie meets Astor, the new boy at school, about whom rumors are swirling and known facts are few. In Astor she finds someone who just might understand her pain, because he has an inner pain of his own. But the more Caggie pulls away from her former life to be with Astor, the more she realizes that his pain might be darker, and deeper, than anything she's ever felt. His pain might be enough to end his life…and Caggie's as well.
This one is also a book that I've wanted to read for a very long time, since it came out, actually. I just have never gotten to read it. The main reason that I checked it out from the library is that its sequel is coming out this month (Cerce). I want to read this one mainly because of the Greek mythology that has been interesting to me since I started reading the Percy Jackson series when I was younger. I've never read anything by Madeline Miller, so I'm excited to see if I enjoy this story.
Greece in the age of heroes. Patroclus, an awkward young prince, has been exiled to the kingdom of Phthia to be raised in the shadow of King Peleus and his golden son, Achilles. "The best of all the Greeks"—strong, beautiful, and the child of a goddess—Achilles is everything the shamed Patroclus is not. Yet despite their differences, the boys become steadfast companions. Their bond deepens as they grow into young men and become skilled in the arts of war and medicine—much to the displeasure and the fury of Achilles' mother, Thetis, a cruel sea goddess with a hatred of mortals.
When word comes that Helen of Sparta has been kidnapped, the men of Greece, bound by blood and oath, must lay siege to Troy in her name. Seduced by the promise of a glorious destiny, Achilles joins their cause, and torn between love and fear for his friend, Patroclus follows. Little do they know that the Fates will test them both as never before and demand a terrible sacrifice.
Built on the groundwork of the Iliad, Madeline Miller's page-turning, profoundly moving, and blisteringly paced retelling of the epic Trojan War marks the launch of a dazzling career.
I'm reading this book for class. I think that's all I think I need to say.
But it's actually a pretty good read. If you're interested in writing scripts, I'd suggest picking this book up.
This ultimate insider's guide reveals the secrets that none dare admit, told by a show biz veteran who's proven that you can sell your script if you can save the cat!
This is the book that I was originally planning on checking out from the library. After reading its prequel, Famous in Love, I needed to read the second one.
Last summer I binge watched Famous in Love on FreeForm. Sadly, the only thing the show has in common with the book is the names of the characters. Both the book and the show ended with giant, and drastically different, cliffhangers. I did not want to confuse the plot lines of the two, and with the season premiere of the show last week, I need to know what happens in the second book.
After being plucked from obscurity, Hollywood's newest starlet, Paige Townsen, has a hit film to her name and Rainer Devon on her arm. But being half of the world's most famous couple comes with a price. No matter where Paige goes, someone is always watching. Soon she finds herself dodging photographers; hiding her feelings for her other costar, Jordan Wilder; and navigating tabloid scandals that threaten to tear her and Rainer apart—and end her career as quickly as it began.
As she navigates her new L.A. life in this sequel to Famous in Love, Paige finds that she doesn't know who to trust: Old friends could be betraying her secrets, and new friends are keeping secrets of their own.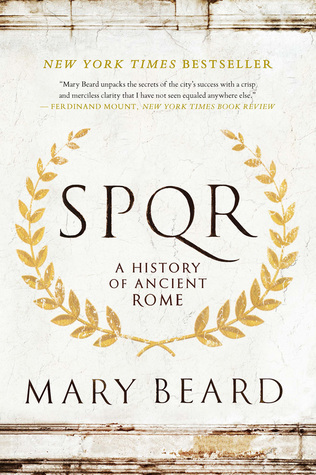 Once again, this is a book that I have wanted to read for a long time and I finally broke down and bought it. I have never read anything by Mary Beard and I am actually excited to learn a thing or two while I read this.
In SPQR, an instant classic, Mary Beard narrates the history of Rome "with passion and without technical jargon" and demonstrates how "a slightly shabby Iron Age village" rose to become the "undisputed hegemon of the Mediterranean" (Wall Street Journal). Hailed by critics as animating "the grand sweep and the intimate details that bring the distant past vividly to life" (Economist) in a way that makes "your hair stand on end" (Christian Science Monitor) and spanning nearly a thousand years of history, this "highly informative, highly readable" (Dallas Morning News) work examines not just how we think of ancient Rome but challenges the comfortable historical perspectives that have existed for centuries. With its nuanced attention to class, democratic struggles, and the lives of entire groups of people omitted from the historical narrative for centuries, SPQR will to shape our view of Roman history for decades to come.
So, in order to get free shipping for my order on ThriftBooks, I had to spend at least $10, the synopsis for this seemed pretty interesting so I just added it to my cart. I don't think I've ever read Siobhan Vivian's work, so I am excited to see how I like her work.
An intense look at the rules of high school attraction – and the price that's paid for them.
It happens every year. A list is posted, and one girl from each grade is chosen as the prettiest, and another is chosen as the ugliest. Nobody knows who makes the list. It almost doesn't matter. The damage is done the minute it goes up.
This is the story of eight girls, freshman to senior, "pretty" and "ugly." And it's also the story of how we see ourselves, and how other people see us, and the tangled connection of the two.
Now, with final exams, portfolios and projects coming up, and the fact that I have to pack up and move back home, I'm not sure if I will be able to read all of these books within the month of April. I borrowed Artemis from a friend a couple of weeks ago and really want to give it back to him soon, so that's the first one I will be reading. And I checked out the three from the library, so I have to finish those before I turn them back in. Obviously, I will finish Save the Cat for class. But the rest of the books I'm okay with not finishing before the end of the month.
What books are you guys reading this month?